Quality Industrial Knitted Tubing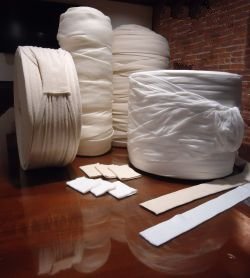 Murray Fabrics has been knitting tubing out of a wide variety of yarns to fit each customer's individual needs since 1955
Knit tubing or stockinette is most commonly used for filtration. However, different fibers can be selected to protect against situations such as chemicals, high temperature, or abrasion. Our knitted tubing can be used in applications such as fire fighting, safety gear, and protective garments.
Some common uses for knitted fabrics are:
Outter wrap for filter cartridges.
Support sock to hold filter media and absorption materials.
Filter sock for paint, chemicals, waste water, and any liquid containing solids.
Protective sleeve, cap, or skin cover for use in spray paint booths, ovens, and manufacturing plants.
Cuffs for work gloves, medical garments, and safety gear.
Murray Fabrics is well stocked with a variety of yarns and machines to allow for custom orders of almost any size, diameter, elasticity, and need.
Knit and jersey tubing can be supplied as uncut rolls, or precut for cuffs, covers, sleeves, or socks. Flame retardant yarns* are available to manufacture fire resistant sleeves, rolls or other items. We have access to a wide array of yarn colors so we can provide an exact match to your specific color request*.
See our products page for additional information on the types of tubing we manufacture.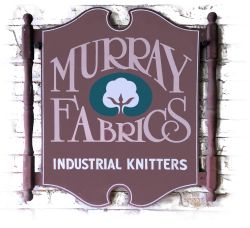 Murray Fabrics prides itself on excellent product quality, fast delivery and competitive pricing. We strive to keep our prices as low as possible, while still achieving the high quality our customers have come to expect. Large and small orders are no problem.
At Murray Fabrics, there is no such thing as a "standard tubing". We manufacture what you want to your specific application.
*Special order items may have minimum order requirements.
Choosing the right Yarn Fibers: Choose a fiber that works for your application; different fibers can be used for corrosive situations whether you are dealing with chemicals, extreme temperatures, or fire safety, as well as simple filtration.