Industries and Applications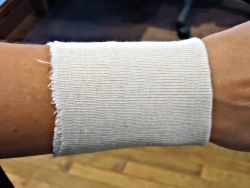 Our products can be used in a variety of industries and for various applications. For instance, the medical industry uses our knit tubing as sleeves that are used underneath casts to protect the skin. The paint industry uses long tube filters to remove paint impurities before packaging.
Other uses for our protective arm sleeves are for hot surfaces such as ovens or manufacturing plants for abrasion resistance. We also manufacture collars and cuffs that are used for medical gowns and gloves. We are proud to supply tubing for the fire safety industry. By ordering special fibers, we have the ability to match your specific requirement*.
Here are a few examples of industries we currently serve:
Chemical - chemical manufacturers use tubing to purify product throughout process
Fire Safety - flame retardant sleeves and cuffs as protective layers
Medical - non-sterile utility items
Filtration - filter bags, filter tubing, and filter covers
Paint - manufacturers use long filter bags to remove paint particulate before packaging
Paint spray booths - protective sleeve, cap, or skin cover
Manufacturing plants - use abrasion resistant sleeves to protect employees
Construction - use wide tubing to filter solids out of run-off
Automotive After Market - to protect parts in transit
Whether it's our extensive knitting shop or our low minimum order requirement we are able to meet almost every commercial client's need.