Knit Tubing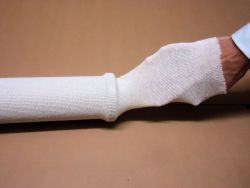 Circular knit tubing is a seamless tube which is sold by the pound and is sized based on flat width and stretch.  Our tubing ranges in widths from 1-3/4" to 12" flat.  The stretch is the maximum size you would like to be able to extend the tube width.  We don't use the term elasticity as it infers that the tubing will snap back to shape like a rubber band.  Once stretched, the fabric will go back to (or close to) its original size but it is not immediate.
We have the ability to alter the flat width and stretch by changing the needle count and yarn size.  Our stock yarns include:  cotton, polyester, polypropylene and acrylic.  Some of the more common specialty yarns we can provide are Kevlar and Nomex.  Flame retardant and polyester/cotton blends are also available.  (Special order yarns have reasonable minimum order requirements.)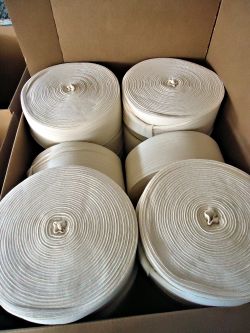 In addition to our knitting department, we also have a complete sewing area allowing us to make bags, covers, filters and sleeves.
Our capabilities range from large production to small orders because we inventory a wide variety of yarn.  At Murray Fabrics, there is no such thing as "standard tubing" – we manufacture what you want to your individual specifications.
About our Tubing:
The knit tubing we manufacture can be provided in rolls or cut to your size requirements.
Widths range from 1-3/4" to 12" flat width
Knit tubing or stockinette is most commonly used for

Filtration and/or straining of paint, latex, gas/oil, pipeline, jet fuel and for just about any application that requires the removal of solids from liquid.
Protective sleeves to protect against abrasion and burns.
Cuffs for work gloves and medical gowns
Non-sterile medical utility items under casts, over dressings, with cervical collars and orthopedic appliances
Filter covers are used in conjunction with cartridge filters as an extra barrier that allows additional filtration on the outside of the filter element.
Filter socks can be filled with media to be used for absorption.
Knits available:

Jersey –

 11.5 to 12" flat width
18" to 26" stretch

Rib Knit:

1.75" to 10" flat width
5" to 26" stretch
All of our products can be made using natural or colored fibers.  While we don't stock colored yarns, we can match your samples (minimum orders required).